Mitchell Golf brings to the customer all the necessary tools needed to make sure your next set of clubs are fitted correctly. For over 35 years, Bill Mitchell and his staff of Professionals have been dedicated to correctly fitting each customer to the right equipment. Whether you need a fitting for a putter, Driver, or a whole set of clubs, one of our Club fitting professionals will get the job done. Call our store for your next fitting appointment.
Full Swing Golf Simulator
Terms you need to know:
Launch angle: The angle at which the ball leaves the clubface, measured relative to the ground.
Ball speed: The speed of the ball in miles per hour as it leaves the clubface.
Backspin: The rotational spin of the ball in revolutions per minute as it leaves the clubface.
Swing speed: The speed of the clubhead in miles per hour just before ball impact.
Vector Launch Monitor System
Vector Launch Monitor System
Our 7 indoor simulators are used to read launch angle and ball speed. The simulators do not measure the spin of the golf ball, which affects ball flight patterns. Because of this, your fitter will make a decision if the Vector Launch Monitor (See Below) will be used. Your level of play, and time available will be the deciding factors on using the Vector. Because of the large size and user friendly environment of our indoor simulators, testing of golf equipment either with a fitter or on your own has made choosing the right golf equipment so much easier.
Vector Launch Monitor System
Mitchell Golf and Accusport proudly present the Vector Launch Monitor System. This system is a state of the art
club fitting system. It allows our experienced club fitters to see many important aspects of your swing. This allows the fitter to make sure that you are getting the clubs best suited to your individual swing, maximizing your distance and accuracy.
For the golfer wanting an extra edge, custom clubfitting may be just what you're looking for. However, custom fitting is beneficial only if the golfer produces the same swing the majority of the time. If changes are made to a manufacturer's standard specs in order to suit the golfer's current swing, then the golfer may expect positive results, as long as the swing is consistent 70% of the time.
This system takes a picture of the ball at impact and records:
Ball Speed
Club Head Speed
Launch Angle
Ball Flight
Ball Spin
Carry Distance
Shot Dispersion
By using the Vector Launch Monitor you will be optimizing the fitting of your clubs which in turn maximizes your club investment.
Mizuno Performance Fitting System
Mizuno Performance Fitting System
Lower your score with irons that fit you perfectly! Your golf swing may not be perfect. But it's yours. Whether you're a scratch golfer or you just play occasionally, getting the most out of your swing means a better round of golf. And nothing will improve your game more quickly than a set of clubs matched to the unique nuances of your swing.
Mizuno's Performance Fitting System is the only club-fitting method that fuses the expertise of professional Mizuno fitters with the state-of-the-art analysis of our exclusive Shaft Optimizer. Every aspect of your swing is considered when fitting each club. You'll feel the difference immediately, and you'll see the results on your very next round.
Shaft Optimizer
Shaft Optimizer
Matching the right shaft to your swing is absolutely critical for just about every aspect of your shot – distance, control, ball flight, trajectory and feel. Because this used to mean a lot of trial-and-error and educated guesswork, many golfers simply selected a popular shaft that might be a mis-fit for their swing.
In just a few swings, Mizuno's Shaft Optimizer ends the guesswork by measuring five critical aspects of your swing to determine your unique Swing DNA™. Your information is entered into Mizuno's patented Shaft Optimizer software, which then recommends a shaft with performance characteristics perfectly matched to your individual swing.
Club Head Speed: How fast the club head and shaft are moving during your swing.
Tempo: How quickly you transition from your backswing to your downswing.
Shaft Toe Down: Measures how far the shaft bends in a downward direction during your downswing.
Shaft Kick Angle: Measures how far the shaft bends forward during your downswing.
Release Factor: How and when the club head and shaft are released during the downswing
Nike Fitting Cart
Nike Fitting Cart
The complete Nike Golf 360° Fitting System provides a full bag fitting system. Golfers can maximize their performance on the course by being fit for every club in their bag ranging from the driver to the lob wedge. When coupled with the proprietary Nike IFS (Intelligent Fitting System) software and launch monitor, the 360° Fitting System provides golfers with a tour-level fitting experience.
The new Nike Golf Fitting System also addresses gap yardage club-fit solutions (i.e. fairway to iron, pitching wedge to approach wedge) and provides club type logic (i.e. hybrid or iron, #3 wood or #4 wood) throughout the set. This standout technology optimizes distance, ball flight and accuracy throughout the set, leading to enhanced performance.
The 360 Mobile Fitting System is a complete fitting cart with Technology Overlay and IFS (Intelligent Fitting System) Software that includes:
Proprietary Z-FIT Technology device that connects the shaft to the club head
Full wood and iron cases and quivers (case that holds shafts)
A proprietary launch monitor
Proprietary IFS (Intelligent Fitting System) software that guides a fitter through the driver, hybrid and traditional iron fitting process, as well as addressing wedge launch conditions for gap fitting wedges
Titleist Fitting Cart
Titleist Fitting Cart
Titleist's SureFit™ System of interchangeable heads and shafts, we find the right combination to provide more center face impact with your driver, and proper ball-turf impact with your irons. Our wedge fitting process distinguishes the right combination of loft, bounce and sole grind to fit your swing. Titleist club fitting is designed to help you get more out of your equipment and lower your scores.
PING Fitting Cart
PING Fitting Cart
PING's fitting programs are a continuation of Karsten Solheim's pioneering work in custom fitting. Fitters are certified by PING to provide the most comprehensive and thorough fittings available. Using a variety of tools, including interchangeable drivers and irons offered in the Advanced Fitting System, ensures your clubs match your individual needs.PING's Fitting Cart can make sure everyclub in your bag is custom fit and custom built.
OptiFit Fitting System
OptiFit Fitting System
Golf Headquarters and Callaway Golf present the Optifit Fitting System
Our OptiFit Fitting System gives our fitting professionals an unparalleled array of fitting clubs and virtually eliminates the guesswork out of being fit for your new Callaway Golf clubs.
OptiFit Clubs Replicate The Look, Feel and Performance of Production Clubs
Callaway Golf engineers have designed OptiFit Fitting System clubs to make them indistinguishable from the actual driver or iron a consumer will put in play. The swing weight and center of gravity location are basically identical to the finished production club with no discernible difference in terms of playability, feel and performance.
Choosing Your Ideal Clubhead and Shaft Combination has Never Been Easier
There are now 15 FT-5 Driver clubheads, nine Hyper X Driver clubheads and six Big Bertha 460 Driver clubheads to go along with 29 shaft options from the most-respected and most sought-after shaft manufacturers in the marketplace, including Aldila, Fujikura, Grafalloy, UST and Mitsubishi Rayon. That means you have 696 total driver configurations to choose from in drivers. Each shaft may be interchanged with any club head so you will have no doubt as to how a particular shaft and head will perform for your unique swing.
In addition, there are 23 irons heads and 27 shafts for a total of 621 iron configurations. Choose from stock and custom shafts available in varying lengths and flexes, as well as iron heads in a variety of lie angles.
Players of All Abilities Will Benefit
Before OptiFit, only touring pros could test multiple head and shaft combinations to find the right driver. Now that option is available to every golfer regardless of their ability. The novice golfer will discover, before purchasing his/her clubs, which loft and flex combination work best for them. The advanced golfer will be able to fine-tune their desired feel and ball flight with precision.
The OptiFit Fitting System is an innovative way to fin
TaylorMade Select Fit Fitting System
TaylorMade Select Fit Fitting System
The TaylorMade SelectFit System allows the trained fitters at Golf Headquarters to quickly and easily assemble different shafts and head combinations without sacrificing feel or performance of the golf club.
The TaylorMade SelectFit System cart utilizes 15 driver heads of various lofts (from 8.5° to 13.5°) and models. Along with the heads the cart offers 17 driver shafts of varying lengths, flexes and kickpoints. These combinations, coupled with TaylorMade's Movable Weight Technology, offer over 63,000 possible driver combinations to ensure you get the perfect fit.
Also in the system are 18 different iron heads of various models and lie angles that range from 4° flat to 4° upright, 17 shafts of varying lengths, flexes and materials (both steel and graphite) that all add up to offer 258 possible combinations.
The new TaylorMade SelectFit System offers golfers a custom-fitting experience with a broader array of golf club options to ensure the best fit for your swing. With the new fitting cart stocked with dozens of TaylorMade club heads of differing characteristics and dozens of shafts of differing make, flex, kickpoint and length, the number of complete club possibilities is more than 186 driver combinations and more than 258 iron possibilities – 200 more than the industry standard.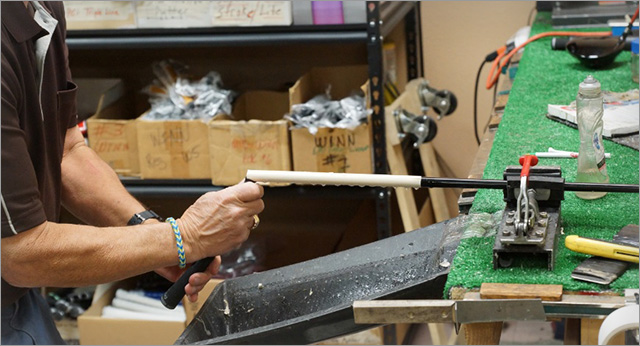 Contact Info
3007 Montana Ave.
Billings, MT 59101, USA

info@mitchellgolfmt.com
(406) 245-8691
(888) 465-3440
Mitchell Golf
3007 Montana Ave.
Billings, MT 59101, USA
(406) 245-8691
mitchellgolf@mitchellgolfmt.com
Store Hours
Mon-Sat: 9:00 am - 6:30 pm
Sun: 9:00am - 5:00 pm