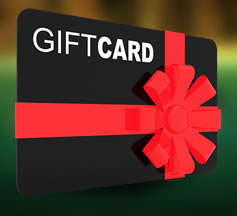 Order Gift card Online
Thank you for your interest in purchasing a Mitchell Golf Gift Card. Our online Gift Card program accepts credit cards using Authorize.net, the most trusted source for accepting online payments. Authorize.net will processes your payment quickly and securely. You can simply pay with a credit card, or existing Authorize.net users can use funds from their Authorize.net account.
Note: Mitchell Golf offers Gift Cards online for $20 and up. Gift cards will be mailed within two business days upon receipt of order. Gift cards will be shipped with a gift card holder stating the gift card amount only. If you would like it personalized (To:, From:, Personal Message, etc.) please put that in the special instructions box below. Thank you for your patronage.
Please enter your preferred amount. You can also call us at (406) 245-8691 to order a gift card and we will ship it free of charge within 1-2 business days.
SKU:

Mitchell Golf Gift Card
Mitchell Golf
3007 Montana Ave.
Billings, MT 59101, USA
(406) 245-8691
mitchellgolf@mitchellgolfmt.com
Store Hours
Mon-Sat: 9:00 am - 6:30 pm
Sun: 9:00am - 5:00 pm