Mitchell Golf is home to your expert club repair specialist. For over 35 years, we have provided our customers precise workmanship on their golf equipment. Currently our staff consists of two Certified Class A Club makers, which was achieved through the Professional Club makers Society. Directed by our two Club makers our two assistants will take care of all your repair needs.
Our repair department routinely performs, regripping, shortening, extending and installing shafts (including bore through). Mitchell Golf has a huge selection of grips and shafts to choose from. We also do loft and lie adjustments to irons that can be adjusted. All work is performed within 1-2 days. If a customer needs a repair rushed, our repair specialist will get the repair job done in 1 hour or less, for a small rush fee.
Matt Crisp, head of our repair department for over 20 years, has the expertise to get the job done right. We have solutions for all budgets and levels. Whether you simply need a broken club repaired or you need fitting adjustments to your clubs, we have the knowledge and equipment to get the job done.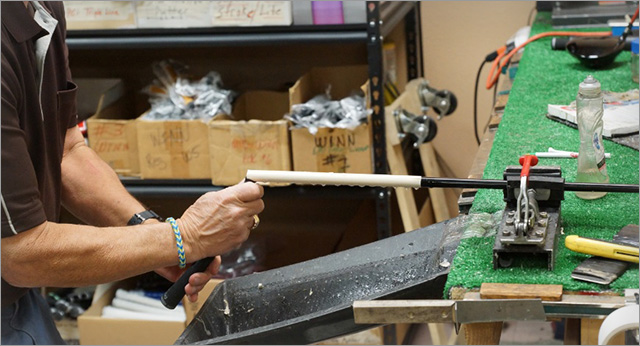 Contact Us
3007 Montana Ave.
Billings, MT 59101, USA
info@mitchellgolfmt.com
(406) 245-8691
(888) 465-3440
Mitchell Golf
3007 Montana Ave.
Billings, MT 59101, USA
(406) 245-8691
mitchellgolf@mitchellgolfmt.com
Store Hours
Mon-Sat: 9:00 am - 6:30 pm
Sun: 9:00am - 5:00 pm